The intelligent assistant for your Website!
Experience the power of Oxana AI: run and build personalized chatbots similar to ChatGPT.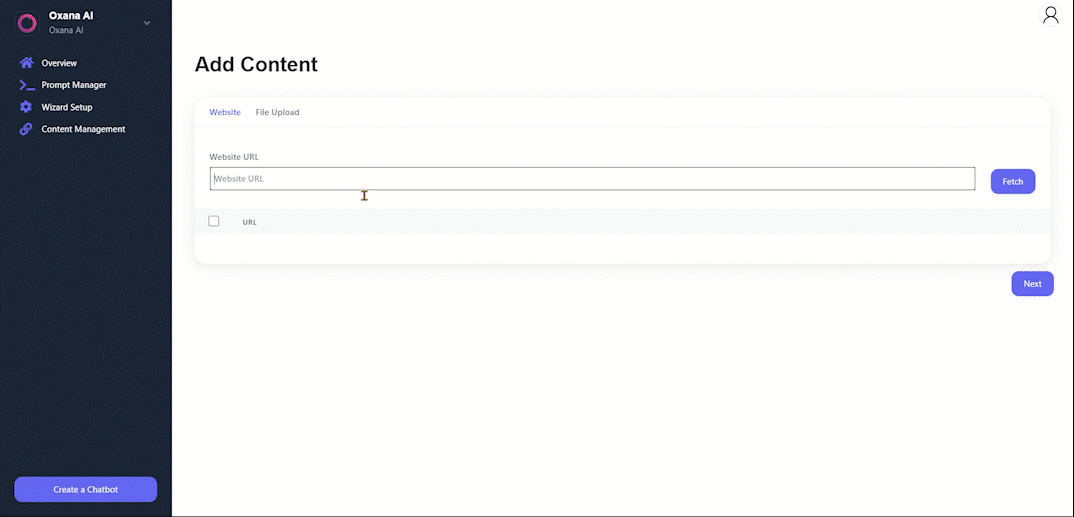 How to create your Chatbot?
With just a simple click of a button, you can effortlessly generate a chatbot trained on your own content. We will automatically fetch all the pages on your website and show them to you.
Select the pages you want the chatbot to train on and click on Start Training.
You now have your own chatbot that can answer anything related to your website content.
Pricing plans for websites of all sizes!
We offer a variety of plans to fit your needs. Whether you're launching a small-scale site or managing a high-traffic web platform, we have a plan designed for you.
* If you're interested in getting customized features, don't hesitate to get in touch with us at info@oxana.ai.
Is there a free plan available for Oxana AI?
Yes there's a free plan with a maximum of 100 messages a month.
What AI model does Oxana AI use for its chatbots?
Oxana AI primarily uses the ChatGPT as the default model for its chatbots.
Is there a limit on the number of messages I can send?
Yes, there are message limits associated with each Oxana AI plan. Please refer to the pricing plans to see the specific limits for each plan.
How can I train the Oxana AI chatbot?
Simply enter a website address/URL, and the chatbot will automatically collect and learn from the website.
The same can be done with .txt files. (more formats on the way)
How can I add the Oxana AI chatbot to my website?
Each Oxana AI chatbot has a unique URL. You can embed the chatbot on your website using the provided embed code. Alternatively, you can directly link to the chatbot from your site.
Can I access the chat history and user interactions with my Oxana AI chatbots?
Yes, you can access the entire Conversation History for each session; anonymously.
How can I contact the Oxana AI team?
You can reach out to us at info@oxana.ai for any inquiries or assistance.
Can I try a demo of Oxana AI?
You can sign up for a free plan and experience a demo of Oxana AI.
Can I use GPT-4 with Oxana AI?
Yes, at the moment, all plans are powered by GPT-4.
What type of content can be used to train the Oxana AI chatbot?
You can use various types of content to train the Oxana AI chatbot. The more content you provide, the better the chatbot will become at answering questions.
Can I upload files to train the Oxana AI chatbot?
Currently we support .txt files but we are working to support more file types.
Does Oxana AI automatically update the chatbot when website content changes?
Currently, manual retraining is required to update the chatbot when website content changes. Simply click the "Retrain" button on the dashboard. We are actively working on automating this process for periodic updates.
Does Oxana AI integrate with other chat providers like Crisp or Intercom?
Oxana AI does not currently have direct integration with other chat providers. However, we are actively working on integrating with various platforms, and this functionality will be available soon. In the meantime, you can embed the Oxana AI bot alongside your existing chat solution.
Can I customize the Oxana AI chatbot's appearance?
Yes, you can customize various aspects of the Oxana AI chatbot. This includes changing the chatbot's name, first message, placeholder, position and more on the way.